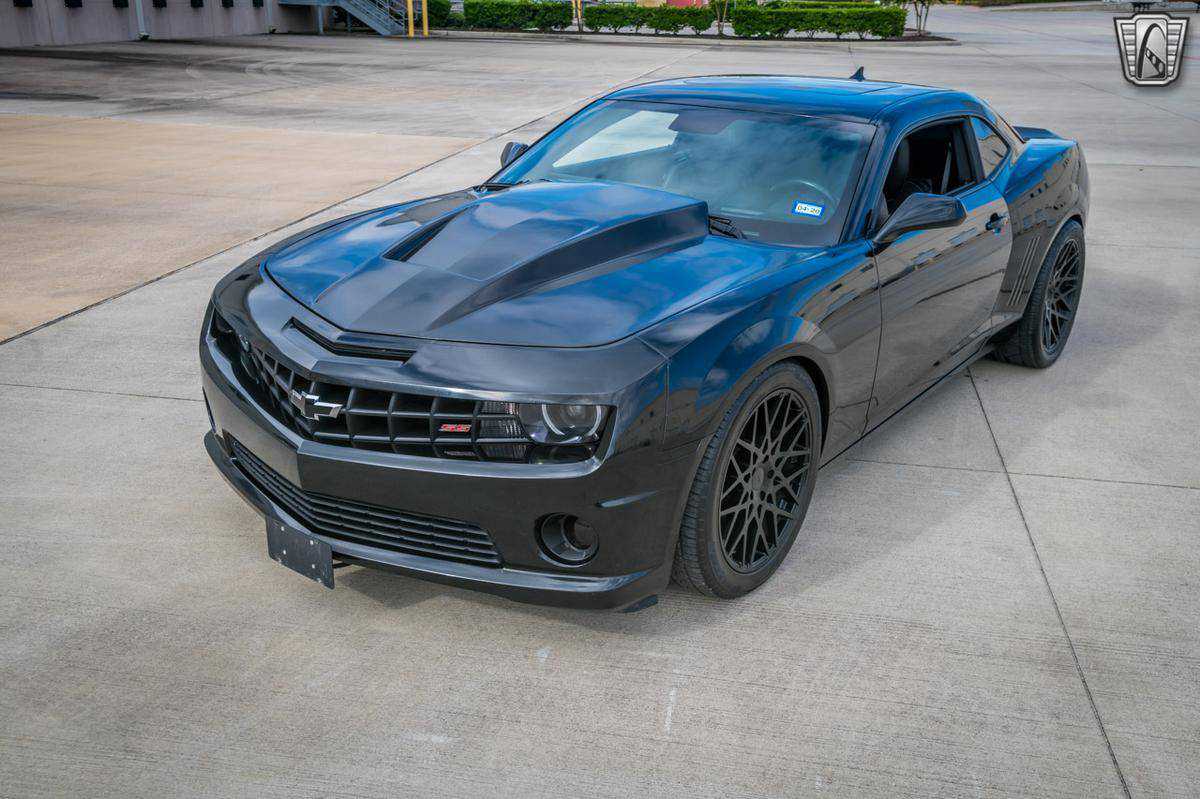 Vehicle Details
Get EPICVIN vehicle history report
To be more confident in your used car purchase and get more information about the auto, including its accident history, insurance records, odometer readings history and other important details, we recommend you get a vehicle history report for the car prior to buying it.
---
Notes
Now for sale in the Gateway Classic Cars Houston showroom is this menacing black 2011 Chevrolet Camaro SS. This is no mere mortal SS sporting a 4 fiberglass cowl hood and carbon fiber trunk lid it just looks like its got something up its sleeve...Not only does it look fast it is; having been treated to Chuck Anders magic at Houston House of Power. HHP handled the performance upgrades and tuning including LSX-R 102 intake long-tube headers and Volant cold air intake. With some additional goodies and Chucks performance tuning magic this SS is pushing 600 HP at the rear wheels. When you fire it up youre instantly treated to the raspy snarl of a highly modified LS-based powerplant snarling through its Corsa cat-back dual exhaust. Youll be hard-pressed to keep from nailing it the first time you slip it into drive; but once you succumb to that temptation youll appreciate the work that Circle D Transmissions did to the 6-speed automatic transmission with its 3500 RPM stall converter. Launch hard? You bet - as often as you want!This mean black-on-black Camaro has been lowered two inches and sitting atop its 20-inch TSW snowflake-style aluminum wheels it just looks ready to go racing. Wrapping those massive 20s are a pair of 255/45R20 Nitto 421Q all-season performance radials up front and 315/35ZR20 Nitto Invo radials out back which really help this beast hook up when you stab the gas. Big Brembo calipers up front enhance the stopping power compared to a regular Camaros 4-wheel anti-lock disc brake setup. Additional features and options on this 2011 Chevrolet Camaro SS for sale include cold Air Conditioning AM/FM/CD radio Anti-theft System Cruise Control Driver and Passenger Airbags Heads-up Display Heated Leather Power Seats with lumbar support Keyless Entry Power Brakes Power Steering Power Sunroof Power Windows Remote Power Mirrors Steering Wheel-mounted audio controls Ride Control with Traction Control and Seat Belts. For more information on this 2011 Chevrolet Camaro SS for sale to see all the HD pictures and videos of it copy the URL below and see it at this direct link: https://www.gatewayclassiccars.com/show/HOU/1598 . Alternatively if you want to see it in person come to our Houston Showroom located at 1910 Cypress Station Dr Bldg 200 Houston TX 77090. You may also call the showroom at (832) 243-6220 or email us at [ email ].
---
Recalls & Defects
VIN may have been recalled. Check full report for more information
If the key is not in the run position, the air bags may not deploy if the vehicle is involved in a crash, increasing the risk of injury. Additionally, a key knocked out of the run position could cause loss of engine power, power steering, and power braking, increasing the risk of a vehicle crash.
General Motors LLC (GM) is recalling all 2010-2014 Chevrolet Camaro vehicles manufactured December 3, 2008 to May 23, 2014. In the affected vehicles, the driver may accidentally hit the ignition key with their knee, unintentionally knocking the key out of the run position, turning off the engine.
---
---