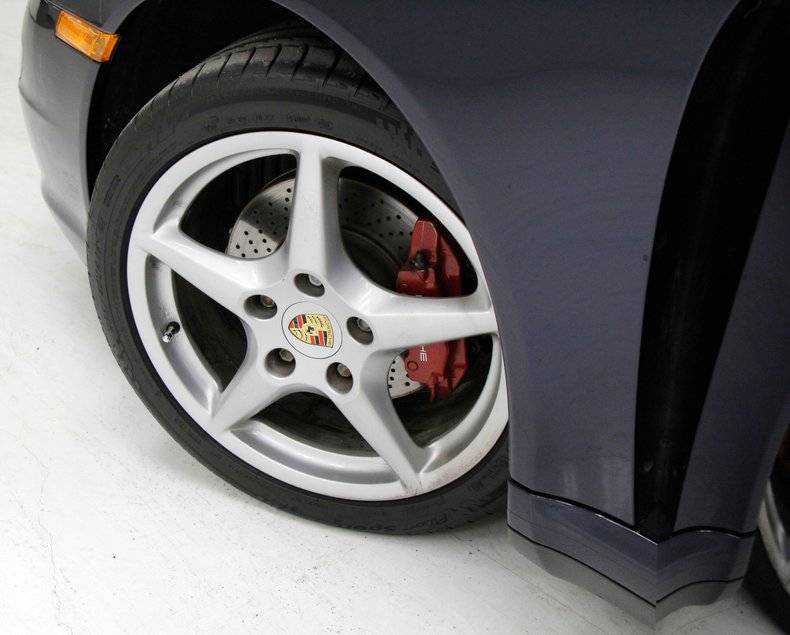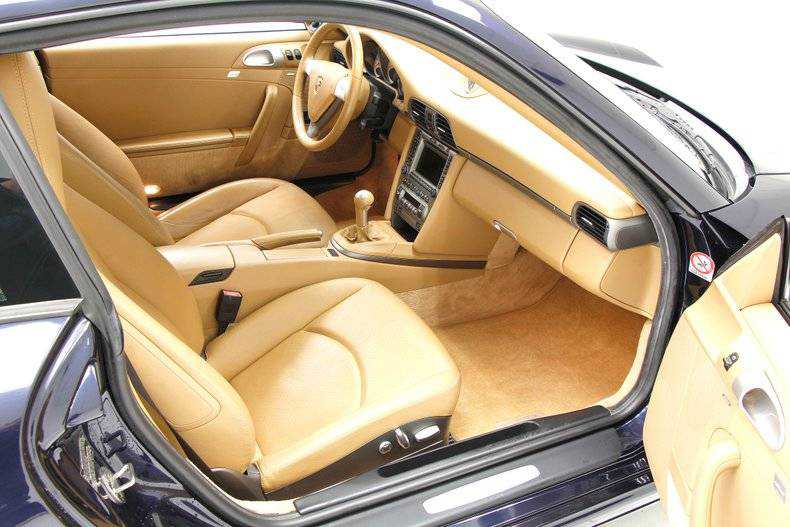 Vehicle Details
---
BASIC SPECS
Model Year: 2006
Make: Porsche
Model: 911
Trim Level: Carrera
Manufactured in: GERMANY
Production Seq. Number: 716247
Body Style: COUPE 2-DR
Engine Type: 3.6L H6 DOHC 24V
Transmission-short: 5A | 6M
Transmission-long: 5-Speed Automatic | 6-Speed Manual
Driveline: RWD
Tank: 16.90 gallon
Fuel Economy-city: 18 - 19 miles/gallon
Fuel Economy-highway: 26 miles/gallon
Anti-Brake System: 4-Wheel ABS
Steering Type: R&P
Front Brake Type: Disc
Rear Brake Type: Disc
Front Suspension: Ind
Rear Suspension: Ind
Front Spring Type: Coil
Rear Spring Type: Coil
Tires: 235/40R18
Interior Trim: Black Leather Interior | Leather Interior To Sample | Natural Brown Leather Interior | Natural Grey Leather Interior | Palm Green Leather Interior | Sand Beige Leather Interior | Sea Blue Leather Interior | Special Cocoa Leather Interior | Special Terracotta Leather Interior | Stone Grey Leather Interior
Exterior Color: Arctic Silver Metallic | Atlas Grey Metallic | Basalt Black Metallic | Black | Carmon Red Metallic | Carrera White | Cobalt Blue Metallic | Dark Olive Metallic | Dark Teal Metallic | Forest Green Metallic | GT Silver Metallic | Guards Red | Lapis Blue Metallic | Metallic Paint To Sample | Midnight Blue Metallic | Non-Metallic Paint To Sample | Seal Grey Metallic | Slate Grey Metallic | Speed Yellow
Curb Weight-manual: 3075 lbs
Overall Length: 175.60 in.
Overall Width: 71.20 in.
Overall Height: 51.60 in.
Wheelbase: 92.50 in.
Ground Clearance: 4.20 in.
Track Front: 58.50 in.
Track Rear: 60.40 in.
Standard Seating: 4
Cargo Volume: 4.80 cu.ft.
Basic-duration: 48 month
Basic-distance: 50,000 mile
Powertrain-duration: 48 month
Powertrain-distance: 50,000 mile
Rust-duration: 120 month
Rust-distance: Unlimited mile
MSRP: $71,300 USD
Dealer Invoice: $62,248 USD
Destination Charge: $765 USD
Power Door Locks: Std.
Vehicle Anti-Theft: Std.
ABS Brakes: Std.
Automatic Load-Leveling: Opt.
Traction Control: Std.
Vehicle Stability Control System: Std.
Driver Airbag: Std.
Front Side Airbag: Std.
Passenger Airbag: Std.
Side Head Curtain Airbag: Std.
Electronic Parking Aid: Opt.
Air Conditioning: Std.
Cruise Control: Std.
Tachometer: Std.
Tilt Steering: Std.
Tilt Steering Column: Std.
Leather Steering Wheel: Std.
Steering Wheel Mounted Controls: Std.
Telescopic Steering Column: Std.
Genuine Wood Trim: Opt.
Tire Pressure Monitor: Opt.
Trip Computer: Std.
AM/FM Radio: Std.
CD Player: Std.
CD Changer: Opt.
Voice Activated Telephone: Opt.
Navigation Aid: Opt.
Subwoofer: Opt.
Driver Multi-Adjustable Power Seat: Opt.
Front Heated Seat: Opt.
Front Power Lumbar Support: Opt.
Front Power Memory Seat: Opt.
Leather Seat: Std.
Passenger Multi-Adjustable Power Seat: Opt.
Second Row Folding Seat: Std.
Power Sunroof: Std.
Manual Sunroof: Std.
Automatic Headlights: Std.
Fog Lights: Std.
High Intensity Discharge Headlights: Opt.
Front Air Dam: Std.
Rear Spoiler: Std.
Alloy Wheels: Std.
Power Windows: Std.
Electrochromic Exterior Rearview Mirror: Opt.
Heated Exterior Mirror: Std.
Electrochromic Interior Rearview Mirror: Opt.
Power Adjustable Exterior Mirror: Std.
Interval Wipers: Std.
Rain Sensing Wipers: Std.
Rear Window Defogger: Std.
Rear Wiper: Opt.
---
Notes
2006 Porsche 911 Carrera 4 In 1923 Ferdinand Porsche moved to Stuttgart to become Technical Director at Daimler, where he assumed responsibility for the development of the famous S, SS and SSK models, while also helping to develop truck and aero-engines, etc. When his contract expired, he returned to Austria where he at first worked as General Director of Steyr. In 1931 Porsche went into business for himself, starting his own design company in Stuttgart. And the rest as they say is history! For consignment a 6-cylinder fuel injected, 6-speed manual transmission personal rocket ship in the form of a 2006 Carrera 4 Coupe. This car presents in beautiful condition, with very few minor faults seen outside and inside. It mechanically very sound, well maintained, and has a mere 46,878 miles clocked on her. From the minds of German engineers, and the spirit of Ferdinand Porsche a great sports car priced reasonably...Schnell! Exterior With the clean lines reminiscent of models that have come before like the 356 Speedster, this car cuts through the wind like a bird in flight. Seams are kept to a minimum, and the ones that need to exist, are minding their gaps incrementally well. The entire car is bathed in beautiful Midnight Blue Metallic. Xenon headlights sealed in their aerodynamic environment lead the way, a power sunroof tops the car, and on the sloped rear a speed activated spoiler raises and lowers automatically. Big 18-inch wheels wrapped in Bridgestone Pilot sport rubber makes this car handle like a cat on the carpet. Interior Sport luxury would best describe the interior of this sports car. Sand Beige leather abounds and has fine stitching holding everything together. The dual high back buckets are power adjustable, very clean and offer up a heated option as well. An aerodynamically designed console races forward towards the dash, and has a nice storage compartment, and the leather covered and booted shift lever. The dash front houses the Bose high end sound package, climate controls, and a PCM color display which includes navigation. In front of the driver is a cascade of circular instruments, keeping you abreast of all the cars vitals. These are white faced gauges and are fronted by the original steering wheel, which shows no wear. Above a tight headliner in suede saddle leather wraps everything up above nice and tightly, while below clean thick pile carpet compliments the interior leather. Drivetrain A water cooled 3.6-liter 6-cylinder engine with 4 valves per cylinder drives full time all-wheel drive. This mill is fed by electronic fuel injection and has a 6-speed manual transmission backing it up which puts power to a 3.44 axle. Undercarriage All very clean underneath with a mass of interwoven tubes and pipes, all packed into the rear of this car. Slight corrosion is noted but is mostly unremarkable. Plenty of ground effects panels cover most of the underside. Vented and perforated disc brakes are grabbed by 4 piston calipers and have active brake differential, anti-lock braking, and this car sports traction control. Drive-Ability This car fires right up and has the beautiful exhaust sound that is a signature of Porsche. My drive included some exhilarating acceleration, especially on the top end...it just wants to continue to pick up speed. It handles very nimbly and is a thrill ride to drive overall. A very nicely preserved example of Porsche technology from 2006. This car has been well kept and put up after each play date. Interior is barely used looking, and it sports plenty of power to push you into your seat even more snugly. Classic Auto Mall is a 336,000-square foot classic and special interest automobile showroom, featuring over 500 vehicles for sale with showroom space for up to 1,000 vehicles. Also, a 400 vehicle barn find collection is on display. This vehicle is located in our showroom in Morgantown, Pennsylvania, conveniently located just 1-hour west of Philadelphia on the I-76 Pennsylvania Turnpike. The website is www.classicautomall.com and our phone number is (888) 227-0914. Please contact us anytime for more information or to come see the vehicle in person.
---
Vehicle Records & Info. Your report VIN WP0AA29926S716247 includes:
Vehicle specifications
Safety report
Environment report
Recalls & Defects
Manufacturer info
Alternate listings
Bill of sale Service
State Documentation
Accident history
Title information
60+ Vehicle problems
Odometer readings
Taxi, Lease, Police use
Structural Damages
Total loss & Theft check
Junk & Salvage
---
---