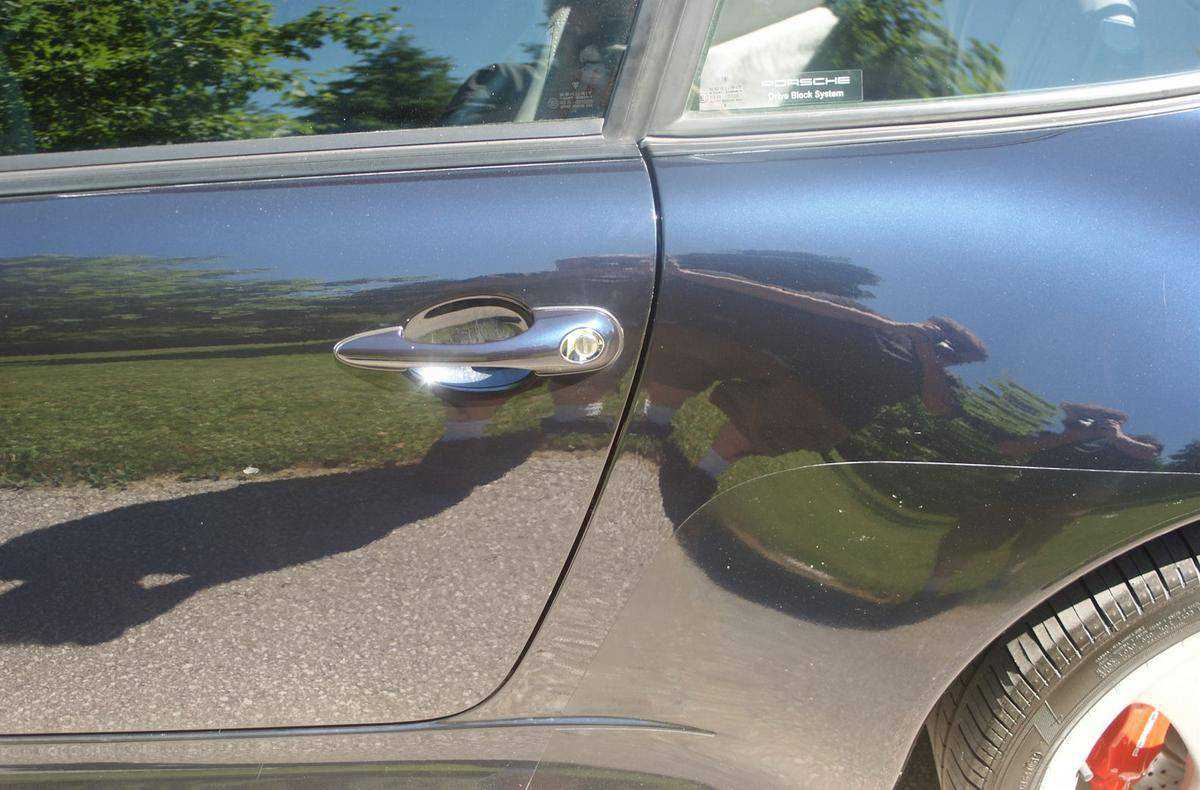 Vehicle Details
---
BASIC SPECS
Model Year: 1997
Make: Porsche
Model: 911
Trim Level: Turbo
Manufactured in: GERMANY
Production Seq. Number: 375134
Body Style: COUPE 2-DR
Engine Type: 3.6L H6 DOHC 24V TURBO
Transmission-short: 6M
Transmission-long: 6-Speed Manual
Driveline: RWD
Tank: 19.40 gallon
Fuel Economy-city: 13 miles/gallon
Fuel Economy-highway: 19 miles/gallon
Anti-Brake System: 4-Wheel ABS
Steering Type: R&P
Front Brake Type: Disc
Rear Brake Type: Disc
Turning Diameter: 38.50 in.
Front Suspension: Ind
Rear Suspension: Ind
Front Spring Type: Coil
Rear Spring Type: Coil
Tires: 225/40R18
Front Headroom: 37.40 in.
Front Legroom: 43.00 in.
Curb Weight-automatic: 3307 lbs
Overall Length: 167.70 in.
Overall Width: 70.70 in.
Overall Height: 51.80 in.
Wheelbase: 89.40 in.
Ground Clearance: 5.10 in.
Track Front: 55.60 in.
Track Rear: 59.30 in.
Standard Seating: 4
Optional Seating: 2
Cargo Volume: 4.60 cu.ft.
MSRP: $105,000 USD
Dealer Invoice: $90,535 USD
Power Door Locks: Std.
ABS Brakes: Std.
Driver Airbag: Std.
Passenger Airbag: Std.
Air Conditioning: Std.
Cruise Control: Std.
Tachometer: Std.
Tilt Steering: Std.
Cassette Player: Std.
CD Player: Opt.
Driver Multi-Adjustable Power Seat: Opt.
Leather Seat: Std.
Manual Sunroof: Std.
Alloy Wheels: Std.
Power Windows: Std.
Rear Window Defogger: Std.
---
Notes
1997 Porsche 911 993 Twin Turbo Coupe For Sale 3.6 litre twin turbo flat six-cylinder engine with a six-speed manual transmission. This is a preservation class example that remains completely original and unmodified. The original Midnight Blue Metallic (Paint to Sample) finish is in very good condition with only a few touched up scratches (left front of fascia and right rear wheel well lip). Some normal scuffing on the bottom of the front fascia as well. Paint meter readings are between 4 and 5.5 thousandths of an inch throughout the car. The body is in excellent rust and damage free condition. Only one small ding with a scuff is present at the rear of the driver's side fender. Factory sunroof equipped. The grey leather interior is in excellent condition outside of some entry scuffs on the switch surround on the driver's seat. Clean Carfax. Original numbers matching engine and transmission. A new clutch has been recently installed and it has only seen 20 miles of use. The engine was resealed at the same time as was the power steering system. This car was sold new in Washington State. It was imported into Canada in 2009. Current family has owned it since 2010. US emissions compliant. This is shown on the Porsche Certificate of Authenticity and the original compliance decal is still present on the door pillar. The CarFax also records its importation into Canada with a specific case number. Has two good working key fobs for the DriveBlock system. Issues of note; Unfortunately the air conditioning system is not currently working. This is a recent development. The rear tires are well worn and require replacement. The original owner's manual package is no longer with the car. We do have the DriveBlock and radio codes. A rare oppourtunity to buy a prservation class Paint to Sample 993 TT. From the options decal: 993 770 – 993 series twin turbo M64/60 – 3.6 litre turbocharged engine G6451-20 –Six-speed manual transmission for four wheel drive turbo models L999 – "Paint to Sample" custom ordered paint colour TF – Classic Grey interior 139 – Seat heating, left C02 – Equipped with catalytic converter 445 – Wheel rim caps with Porsche crest 454 – Automatic speed control 586 – Lumbar support, left seat 650 – Power sunroof 688 – CD-radio Becker Porsche CDR-210 USA market 939 – Pleated leather rear seats 982 – Supple leather seats/trim front
---
Recalls & Defects
VIN WP0AC2992VS375134 may have been recalled. Check full report for more information
IN THE EVENT OF A CRASH, THIS RESULTS IN THE DEPLOYMENT OF THE AIR BAG(S) WHICH COULD RESULT IN SEVERE INJURY OR DEATH TO THE CHILD SEAT OCCUPANT.
EQUIPMENT DESCRIPTION: CHILD SEATING SYSTEM AIR BAG DEACTIVATION KIT FOR USE ON 1997-1998 911 CARRERA S, CARRERA 4, CARRERA 4S, AND TURBO (1997 MODEL ONLY), PART NO. 993 803 283 00, AND 1997-1998 BOXSTER MODEL VEHICLES, PART NOS. 996 803 283 00 AND 996 803 083 00. DUE TO A MANUFACTURING PROBLEM, THE CONTACT BUCKLE (WHICH IS PART OF THE KIT) DOES NOT DEACTIVATE THE AIR BAG(S).
---
Vehicle Records & Info. Your report VIN WP0AC2992VS375134 includes:
Vehicle specifications
Safety report
Environment report
Recalls & Defects
Manufacturer info
Alternate listings
Bill of sale Service
State Documentation
Accident history
Title information
60+ Vehicle problems
Odometer readings
Taxi, Lease, Police use
Structural Damages
Total loss & Theft check
Junk & Salvage
---
---