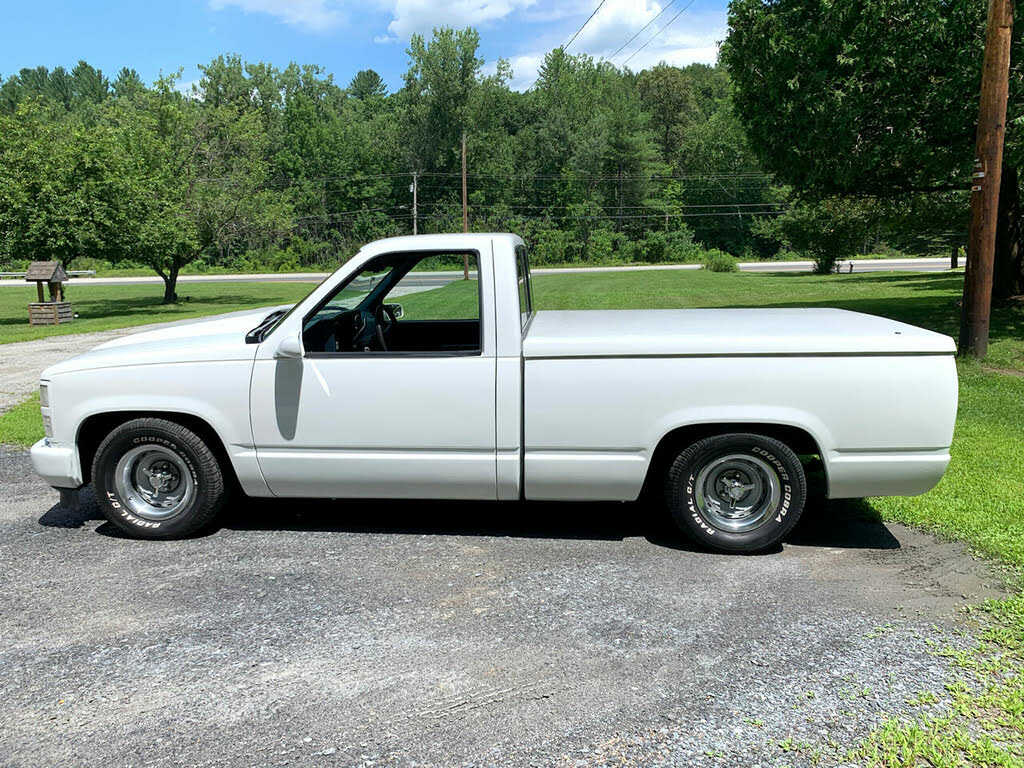 Vehicle Details
Get EPICVIN vehicle history report
To be more confident in your used car purchase and get more information about the auto, including its accident history, insurance records, odometer readings history and other important details, we recommend you get a vehicle history report for the car prior to buying it.
---
BASIC SPECS
Model Year: 1990
Make: Chevrolet
Model: C/K 1500
Trim Level: Reg. Cab W/T 8-ft. bed 2WD
Manufactured in: UNITED STATES
Production Seq. Number: 200675
Body Style: REGULAR CAB PICKUP 2-DR
Engine Type: 5.7L V8 OHV 16V
Transmission-short: 4A
Transmission-long: 4-Speed Automatic
Driveline: RWD
Tank: 34.00 gallon
Fuel Economy-city: 18 miles/gallon
Fuel Economy-highway: 21 miles/gallon
Anti-Brake System: 2-Wheel ABS
Steering Type: Recirc
Front Brake Type: Disc
Rear Brake Type: Drum
Turning Diameter: 44.60 in.
Front Suspension: Ind
Rear Suspension: Live
Front Spring Type: Coil
Rear Spring Type: Leaf
Tires: 225/75R15
Front Headroom: 40.00 in.
Front Legroom: 41.70 in.
Front Shoulder Room: 66.00 in.
Curb Weight-automatic: 3845 lbs
Overall Length: 212.60 in.
Overall Width: 76.80 in.
Overall Height: 70.40 in.
Wheelbase: 131.50 in.
Standard Seating: 3
Optional Seating: 2
MSRP: $11,315 USD
ABS Brakes: Std.
Air Conditioning: Opt.
Cassette Player: Opt.
Full Size Spare Tire: Opt.
---
Option & Equipment
Steel Wheels
---
Notes
Check out this One of a kind customized Chevy C-10. This truck is originally from Florida and is completely Rust Free. This truck has been completely modified! Here is just a few modifications: Shaved door handles shaved gas door Escalade tailights shaved tailgate handle sport mirrors lowered built 350 engine hi density headlights complete custom leather interior custom gauges sound system with amp and subwoofer and so much more. It cost over $40k to build this truck. The truck is a steal at this price and not be duplicated at this price. Give us a call today to schedule a test drive. We offer financing through local credit unions and offer a wide variety of extended warranties at an additional charge. We are a family owned and operated business that has been selling Quality Pre-owned vehicles in Central VT for over 40 years.Thank you for visiting our website ClassicAutoExchangeVT.com We hope this is the car you are looking for!! If you don't see what you are looking for please give us a call we can find you exactly what you are looking for! Call us to make an appointment 802-223-7501[[email protected]@Additional [email protected]@!]ABS Brakes
---
Information about Dealer
Great Tacoma
Customer Service: 5 Buying Process: 5 Quality Of Repair: 5 Overall Facilities: 5
When I walked into the classic auto exchange I was greeted as if I was one of the family by everyone I met. When I saw my truck I could understand why they sell so many cars each year. They spare no expense to make them very sellable. My overall experience was the best I've ever had. Kim
---