90,489 Miles
19,407 Miles
above average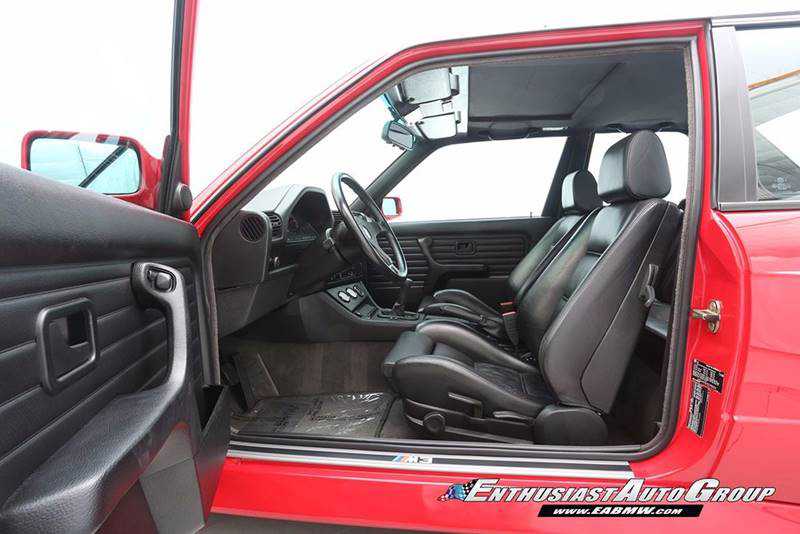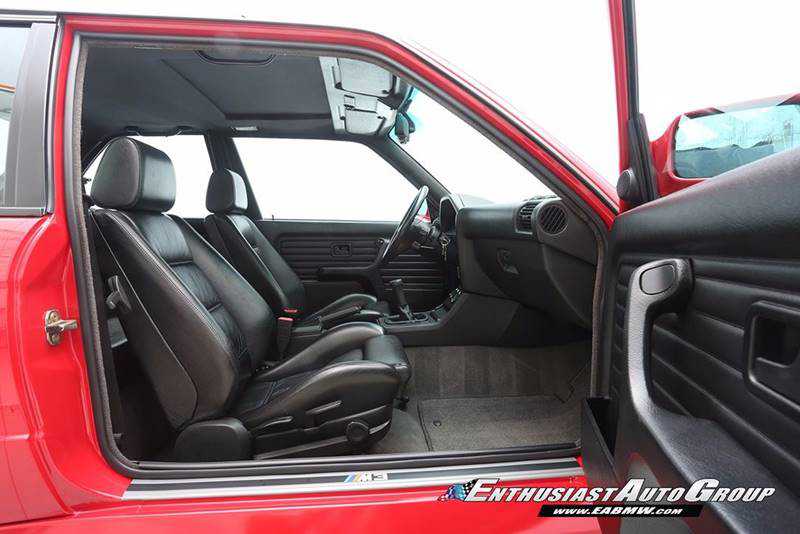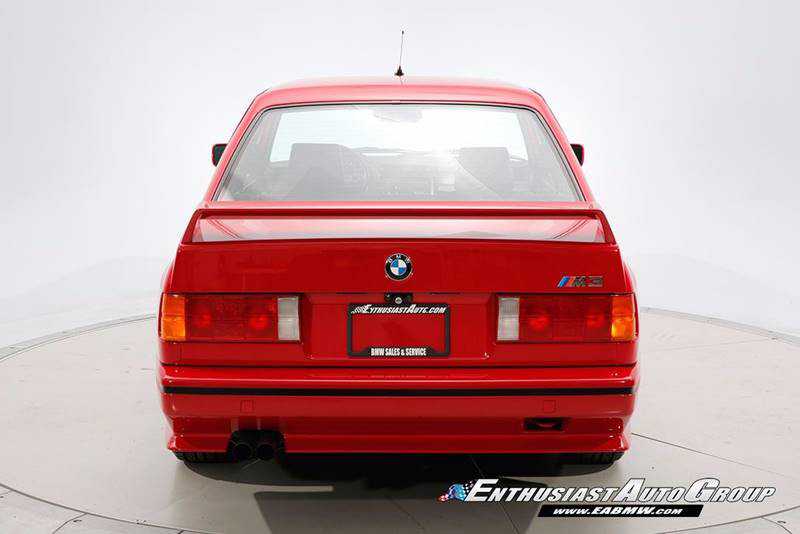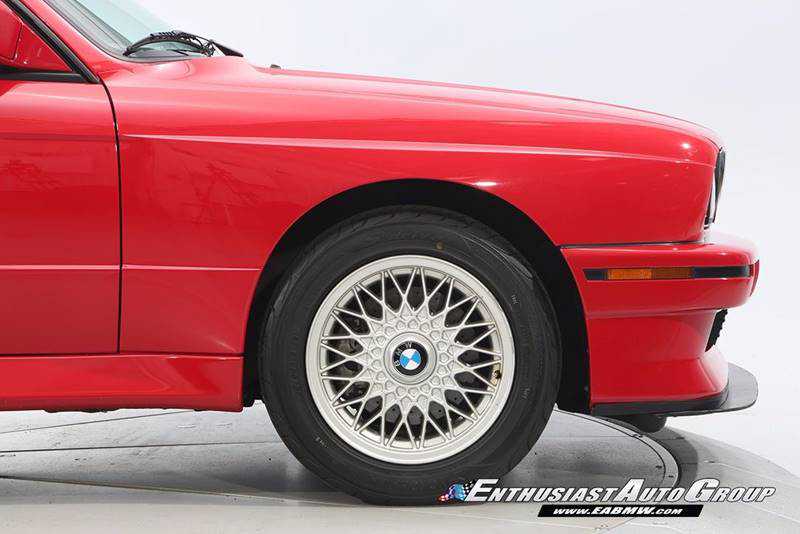 Vehicle Details
Get EPICVIN vehicle history report
To be more confident in your used car purchase and get more information about the auto, including its accident history, insurance records, odometer readings history and other important details, we recommend you get a vehicle history report for the car prior to buying it.
---
Option & Equipment
Sunroof/Moonroof
---
Notes
*New Arrival* Zinnoberrot over Black Leather,​ Absolutely Stunning,​ Investment-Grade E30 M3! All Original Body Panels with All VIN Tags Intact! This is a rare opportunity to own an original 1st generation M3! Truly an icon of the M car lineup and quickly becoming collectible! Genuine Period-Correct Aesthetic Upgrades include: BMW Sport Evolution Front Lip Spoiler,​ Sport Evolution Dead Pedal,​ Dinan 3-Gauges Pod,​ Evolution2 Engine Valve Cover and Intake Plenum. The condition of this E30 is exceptional and could easily pass for having less than half the mileage! Always pampered and respectfully enjoyed! The exterior paint has a deep glossy finish that shows excellent with no significant flaws or blemishes. All body panels are original,​ numbers-matching with VIN tags intact! The interior is in well-preserved,​ original condition with supple leather,​ clean carpets and crack-free dash. Always garaged and never driven in inclement weather. 100% rust free body and undercarriage with undamaged rocker panel pinch welds. Mechanically; this car has been well-kept with a strict service regiment with many items preventatively replaced. Extensive service history documentation included. This car will impress the pickiest of collectors and vintage BMW enthusiasts! Recent maintenance performed by the previous owner includes ignition plug wire set,​ rear muffler assembly,​ new Yokohama S-Drive tires and more. Enthusiast Auto has completed our Comprehensive Pre-Purchase Inspection and Work Order preparing this car to join the new owners collection! Current Proactive Maintenance Highlights Include a Complete 10-year Service with all new fluids + filters,​ valve adjustment + valve cover gasket,​ updated timing chain tensioner,​ engine drive belts,​ front control arm bushings,​ front seat shocks and vehicle battery replacement. This S14 engine has consistent compression test readings across all 4 cylinders with result photos on file. This example would make a nice addition to any collection or will make an awesome low-annual mileage driver! Complete car with all books,​ manuals and service documentation. Clean Vehicle History Report with No Accidents,​ No Issues + No Drama! Responsible Adult Owned,​ Non-Smoker. Please call or email to obtain a Pre-Purchase Inspection Report,​ Build Sheet,​ Condition Related Details,​ Vehicle History and 100+ Detailed Photos; 513-554-1BMW (1269)Front Air Dam,​ Rear Spoiler,​ Front Air Conditioning,​ Steering Wheel Trim - Leather,​ Cruise Control,​ Power Steering,​ Abs - 4-Wheel,​ Power Brakes,​ Gauge - Tachometer,​ Cassette,​ Clock,​ Premium Brand,​ Radio - Am/Fm,​ Trip Computer,​ Front Fog Lights,​ Tire Type,​ Wheel Diameter - 15 Inch,​ Wheels - Alloy,​ Moonroof / Sunroof - Power Glass,​ Tinted Glass,​ Window Defogger - Rear,​ Front Wipers - Intermittent,​ Power Windows,​ Power Door Locks,​ Side Mirror Adjustments - Power,​ Side Mirrors - Heated,​ Front Seat Type - Bucket,​ Front Seat Type - Sport,​ Upholstery - Leather
---
Recalls & Defects
VIN WBSAK0301K2198534 may have been recalled. Check full report for more information
VEHICLES OPERATED UNDER THIS INCREASED COOLING SYSTEMPRESSURE CONDITION CAN SUFFER DAMAGE OR FAILURE OF PARTS OF THE COOLING SYSTEMSUCH AS (1) LEAKAGE FROM A COOLANT HOSE, (2) LEAKAGE OF THE RADIATOR OREXPANSION TANK, (3) DISCONNECTION OF A HOSE FROM A PIPE OR A FITTING, AND (4)CRACKS IN THE HEATER CORE END PIECE RESULTING IN COOLANT LEAKAGE. IN SOME CASES,BOILING COOLANT CAN CONTACT THE LOWER RIGHT LEG OF THE DRIVER RESULTING INBURNS. ALSO, ESCAPING COOLANT IN THE PASSENGER COMPARTMENT CAN CAUSE VAPORFOGGING OF THE INTERIOR SURFACE OF THE WINDOWS, REDUCING DRIVER VISIBILITY.
THE MALFUNCTION OR FAILURE OF A COOLANT SYSTEM COMPONENT RESULTS IN SIGNIFICANTLY INCREASED COOLANT TEMPERATURE AND A RESULTING INCREASE IN SYSTEM PRESSURE.
---
Information about Dealer
Best auto purchase experience...
Customer Service: 5 Buying Process: 5 Quality Of Repair: 5 Overall Facilities: 5
I'd been wanting this car since it came out in 2011. When I saw the price, and the excellent condition this car was in, I had to call. I spoke with owner Eric Keller the day before Thanksgiving after seeing this car on the website. I was impressed with his knowledge and how passionately he spoke about BMW M cars. He was a car guy......a BMW car guy, not just a salesman. He was informative, but not pushy. He sent me a wealth of information about their selection process and the car. I thought it over, and decided on Thanksgiving day to make the purchase. I sent an email, and to my surprise he responded. "The car is all yours." I was ecstatic.The entire process was so pleasant. They did all necessary maintenance and sent me a list of everything done. I couldn't pick the car up for a month and a half. They were so accommodative and kept the car in storage. I decided to have the DINAN upgrade performed on the vehicle and the work was done professionally and in house. When I finally was able to pick up the vehicle, I flew to Ohio. They sent a driver to pick me up from my hotel, and gave me a tour of their shop and dealership. The place is immaculate and everyone was so friendly. If you're into BMW M cars, definitely visit their dealership. I've never seen a collection of rare BMW M cars in one place. My 1M was prepped and ready to go. All the accessories and maintenance history was handed over. Eric took his time to relay any pertinent information given to him by the previous owner. I could tell this car was selected by Enthusiast Auto because of the pristine condition the previous owner had kept it in. It's almost a year since I've had my 1M and I love it. I've had no issues or surprises. Every time I've called with a question, I've been treated with such respect. I'm still pinching myself because I never thought I'd have such a great experience buying a vehicle.Thanks Enthusiast Auto!DwightProud 1M owner
---