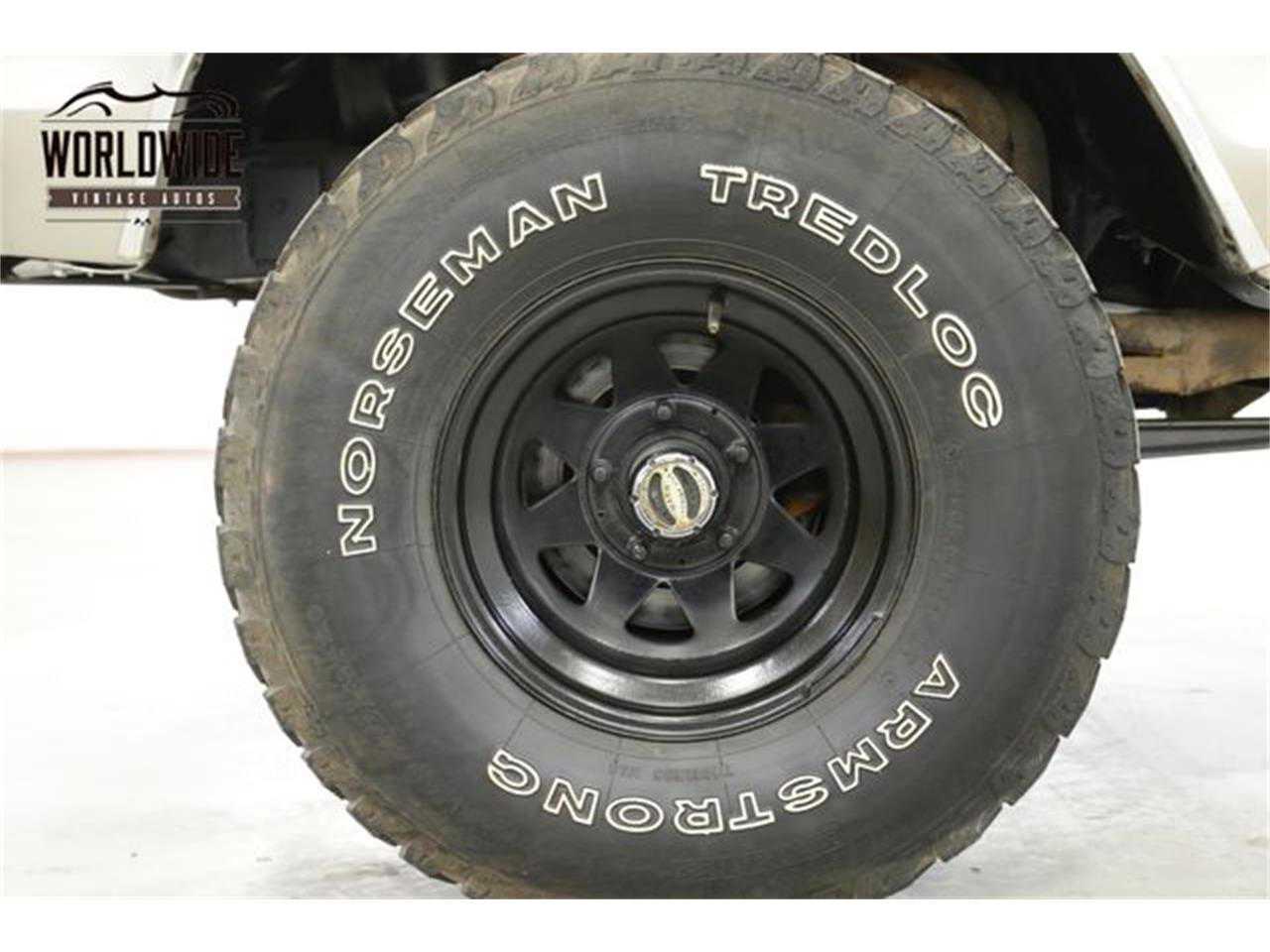 Vehicle Details
Get EPICVIN vehicle history report
To be more confident in your used car purchase and get more information about the auto, including its accident history, insurance records, odometer readings history and other important details, we recommend you get a vehicle history report for the car prior to buying it.
---
Notes
Worldwide Vintage Autos is pleased to present this 1978 FordBroncoHISTORYThe Ford Bronco is a model line of SUVs that were manufactured andmarketed by Ford from 1965 to 1996. After the first generation ofthe Bronco was introduced as a competitor to compact SUVs(including the Jeep CJ-5 and International Harvester Scout), thesucceeding four generations of the Bronco were full-size SUVs,competing against the Chevrolet K5 Blazer and Dodge Ramcharger. Thefirst Bronco was assembled using its own chassis, while thefull-size Bronco was derived from the Ford F-Series (F-100, laterF-150) pickup truck; all Broncos were produced with four-wheeldrive powertrains.Source: Wikipedia.comSPECIFICS / BUILD INFORMATIONEXTERIORNew Silver PaintRanger XLT PackageBlack RimsRemovable Hard TopAggressive Radial TiresINTERIORBrown CarpetTilt Column Steering Wheel4x4 on the FloorSony Head unitMECHANICAL400 CID V8 (according to previous owner)Automatic TransmissionPower SteeringPower BrakesA/CLifted StanceDISCLOSURE-Cosmetic: There are a few chips / imperfections in the paint, tearin seat (See detailed pictures).-Mechanical: Please refer to the 28 point inspection report locatedin the photos above.-For more details on any disclosure items please see contact asales agent today at 1-877-422-1570.**PROPS MAY BE USED FOR PHOTOS, PROPS ARE NOT INCLUDED WITH THESALE OF THIS VEHICLE**The engine size and specs if any were provided by the previousowner and are not verified. If you would like to verify blocknumbers, engine stamps etc, please do so prior to purchasing.The cost of parts and restoration of these vehicles are increasingdaily. They are not making any more and, therefore, they arebecoming more rare by the day. Buy one complete and ensure yourinvestment for the future. An excellent investment and somethingyou can enjoy daily. Collectible vintage vehicles have historicallyappreciated at a rate greater than that stock market, gold andother arts and collectibles as documented by many articles andauction result tracking.NEED MORE DETAILED INFORMATION? CALL US AND WE WILL HELP ANY WAYPOSSIBLE!1-877-422-1570WORLDWIDE VINTAGE AUTOS [. C O M ]FINANCINGJJ BEST BANC. COLLECTOR CAR FINANCING800-872-1965Please mention you are working with Worldwide Vintage Autos inorder to expedite the process. For financing, Down Payment requiredby lending institution will be due within 72 hours of deposit inaddition to deposit. Down Payment is refundable.DEPOSITS
---
Recalls & Defects
VIN U15SLCD6316 may have been recalled. Check full report for more information
ON THE INVOLVED VEHICLES, BUILD-UP OF CARPET/MAT DEADENER AND INSULATION UNDER THE REAR SEAT FRAME AND SEAT BELT ANCHOR TABS MAY PREVENT THE OPTIONAL FOLDING REAR SEAT CUSHION FROM LATCHING PROPERLY. THE LATCH MAY BE ONLY PARTIALLY ENGAGED AND FAIL TO SUSTAIN THE SEAT BELT ANCHORAGE LOADING REQUIREMENTS OF FEDERAL MOTOR VEHICLE SAFETY STANDARD NO. 210, "SEAT BELT ASSEMBLY AND ANCHORAGES".
---
---